These thick and fluffy flapjacks are truly delicious and moreish: Make a stack of these on lazy weekends for breakfast…your family will love you for this and it will most definitely disappear within a flapjack flash!
Flapjacks are quick, easy and super versatile. This recipe's serving suggestion of bacon, syrup or honey and berries or grated cheese is just that: A suggestion.
There really are no real restrictions on toppings and why even restrict these yummy mini pancakes to breakfast time? Whipped cream or vanilla ice cream with chocolate chips or caramel would make for the perfect dessert or tea-time treat. 
Some more topping suggestions? Here we go:
Fresh sliced fruits like bananas, mangoes, kiwi, strawberries, pineapple, or pears.
Blueberries, raspberries, or blackberries
Peanut butter, almond butter, cashew butter, or Nutella
And of course, one could be creative and add nuts, cinnamon or pumpkin pie spice to the batter to elevate the flavour.
You can easily make your batter the night before. Just cover it with a lid or plastic wrap, refrigerate and you're ready to flip away the next morning. Enjoy!
DID YOU KNOW?
According to Reference.com, the name "flapjacks" originated in merry old England in the early 1600s. The "flap" part of flapjack dates back to the 1300s when "flap" was used in place of "to flip".
It is uncertain as to what the "jack" in flapjack means, but it is often speculated to refer to the small size of a flapjack as "jack" was used to refer to something that was smaller than normal.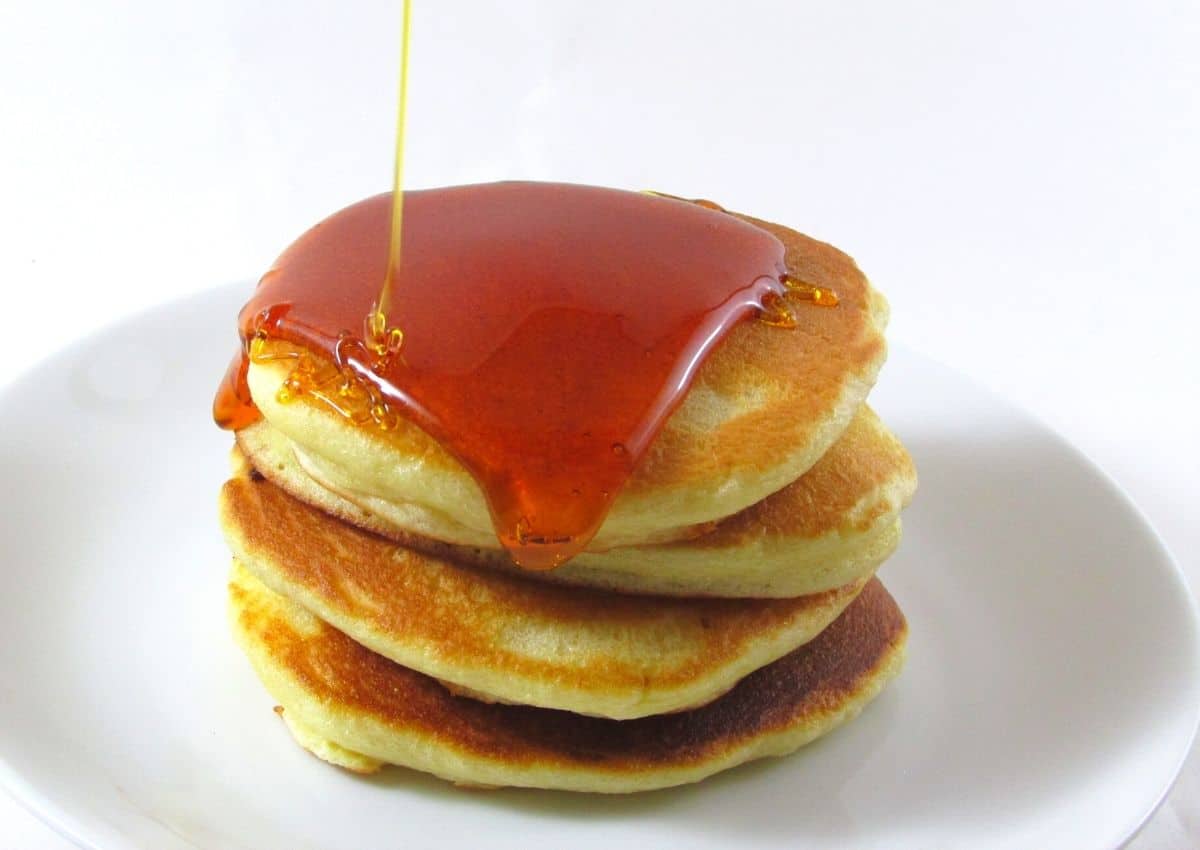 3

eggs

125

ml

ml sugar

250

ml

milk

2

tbsp

melted butter

2

cups

flour

4

tsp

baking powder

1/2

tsp

salt

50

ml

oil
Beat the eggs and sugar

Drizzle the melted butter into the mixture

Mix the dry ingredients gradually with the milk

Do not over mix

Heat a frying pan on medium-low heat, to prevent flapjacks from getting overly brown

Add a tablespoon of oil

Pour heaped spoonfuls of the dough in the hot pan

Not more than 4 at a time

When the flapjack forms a bubble and pops, turn them over

Served the flapjacks with butter, syrup, honey, bacon, berries or cheese.
RELATED: How To Make: Lemon Butter Chicken Bake