One day, my daughter said to me, 'I don't want no dead chickens in my cake for my birthday!' What do you do?"
That was the question preoccupying Sukh Chamdal when he attended a food industry seminar over 13 years ago. The youngster's demand was entirely in keeping with the household's strict lacto vegetarian diet, with no meat, fish or 'dead chickens' (also known as eggs) allowed.
What's more, Chamdal's background as an Indian sweet chef for his family's business in east London made him naturally curious regarding the possibilities.
Luckily enough, the seminar gave him the answers he was looking for, courtesy of a professor from London South Bank University. "She told me she could make me an egg-free cake recipe, and that I could get a £20,000 grant as well," he says.
Six weeks later Chamdal had a recipe, and fate soon provided the missing piece of the puzzle. "It just so happened that where we lived in Green Street in east London, the shop next door, which was our property, became vacant," he explains. "So, to put something in there, I started the egg-free cake concept in 2008."
If Chamdal makes the venture sound like an opportunist throw of the dice, it's one that certainly paid off. In February 2021, Cake Box opened its 150th store – the company's 66th since it was listed on the London Stock Exchange in June 2018.
As CEO, Chamdal admits it was clear early on that his concept would be a success, and he quickly developed the franchise model that has seen the business spread across the UK.
"I constantly had customers coming in asking if we could open another branch in this city or this place," he says. "I was very reluctant to do it because I wasn't sure about the idea of managing other shops. Then I had an invitation to a franchise show, so I went and gave my idea to the consultant, and he thought that it would work really well. A year later, the franchise model was born."
We look after family and family looks after the business. These are the core values
In keeping with the provenance of the original business idea, the company's initial expansion had its roots close to home. "My brother-in-law was made redundant and so I asked him, 'Why don't you try this concept out?' which he did, and it worked well."
Despite the scale of growth, the CEO still considers Cake Box as a family business and, from a personnel perspective, it's not hard to see why. "One of my daughters has three franchises and my other daughter has five, and my cousin, Pardip Dass, is the co-founder and chief financial officer," Chamdal explains.
However, he insists, the family ethos extends to the whole business. "Our franchisees are not in competition with each other. If someone runs out of something, they can always pop down to the nearest shop and borrow it from them. We look after family and family looks after the business. These are the core values we were taught at home."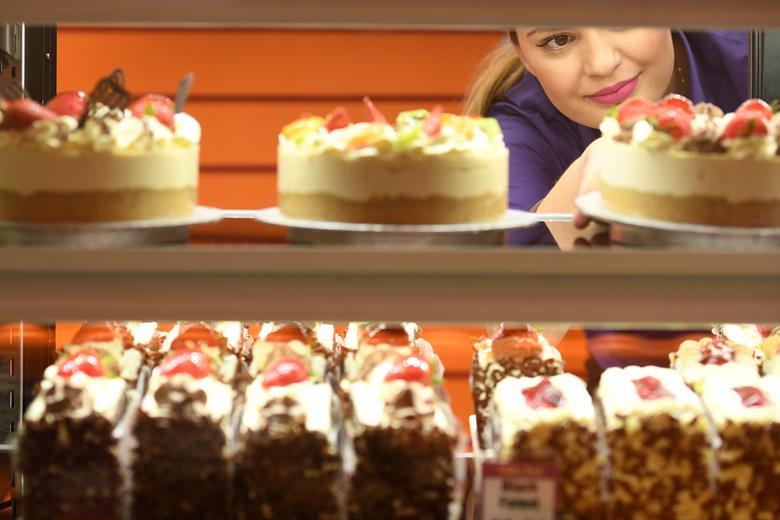 The Covid-19 pandemic provided an example of this supportive culture. "In one of our shops, a member of staff was Covid positive, so the people who were there had to isolate, including the franchisee. But to stop the shop from having to close, another local franchisee stepped in, put his own staff in there, produced all the cakes at his place and moved them over."
It could be the case that this spirit of cooperation has contributed to a strong performance from the wider business during the pandemic.
While stores initially closed for six weeks during the first lockdown, Chamdal reports that Cake Box bounced back to such an extent that it was able to repay all its furlough funds while also increasing its gross profit by 5.3%. He adds that like-for-like franchise sales were up 12.9% in October, and 1.4% for the first two weeks of November following the second lockdown.
Building on the popularity of its click-and-collect service, the company launched its own-brand delivery platform to complement third-party delivery options. Accordingly, online sales rose by 56.5% in the six weeks since the end of September and were up by 84% year on year.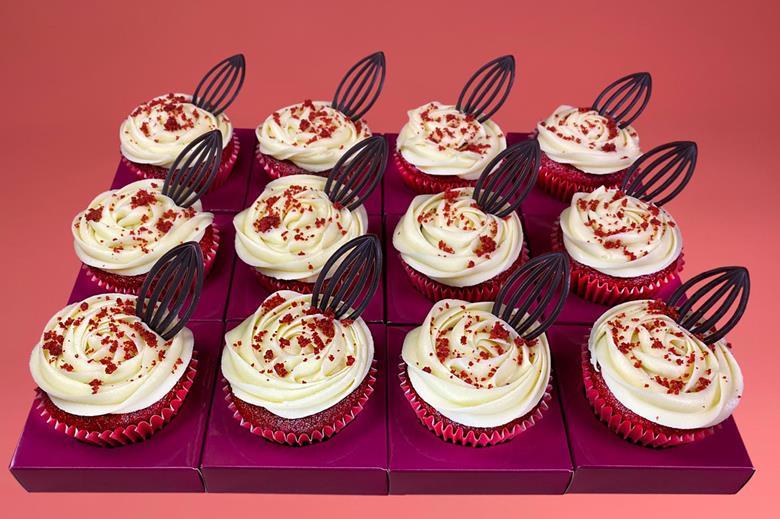 Seventeen new stores have opened in the second half of 2020/21 – in Barnsley, Corby, Cricklewood, Romford, Staines and Tolworth, among others – and Chamdal says the company has at least 52 deposits from potential franchisees. He believes the pandemic has served as a catalyst for many would-be bakers who are now facing less security in their regular jobs or are seeking greater freedom.
"We get a lot of people who are professionals, like dentists, pharmacists and accountants, who've always wanted to start their own business but have never been spurred on for that final jump. Currently, over 50% of our franchisees are females who have decided to go out on their own and get a better work-life balance."
I think there's always going to be a room for a treat, especially in uncertain times
The cherry on top of the company's expansion during the pandemic was the addition of a new bakery and distribution centre in Coventry, to complement facilities in Enfield and Bradford.
Chamdal believes the nature of the company's product goes a long way to explaining its endurance during the turmoil of the last year.
"I think there's always going to be a room for a treat, especially in uncertain times," he says. "You will always make sure you celebrate that one occasion as an uplifter."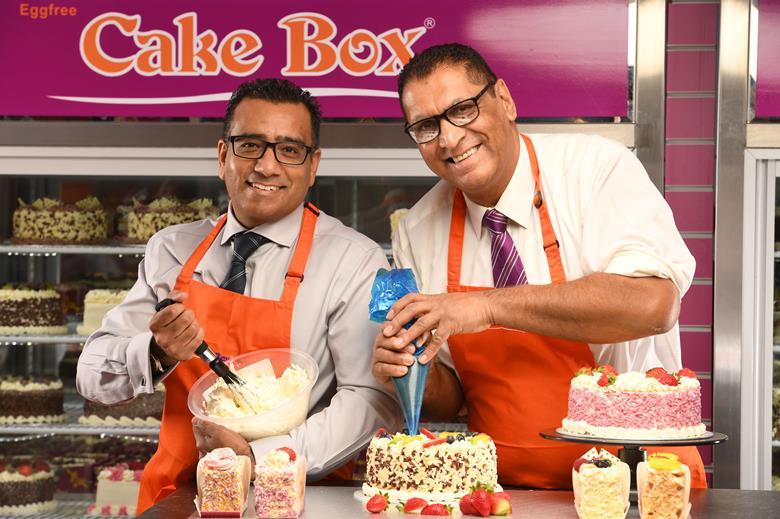 As with the majority of bakery businesses, the disruption over the past year has seen Cake Box adjust its offering to accommodate customers' changing needs.
"When the government brought in the rule of six, we saw a corresponding decline in the size of the cake," explains Chamdal. "On the other hand, we found people were celebrating more often, with surges on occasions such as Romanian naming days and Chinese New Year, so the sales are still there."
NPD is similarly driven by consumer demand. "We work on feedback from the customer," says the CEO. "They asked if we could do an eggless cheesecake, for example, so we gave it to them."
If the product is good, you will get customers
Chamdal is especially excited about the vegan sponge now ready for launch after a long gestation period.
"We didn't want to bring out a vegan product that's the same as anybody else's," he explains. "We wanted a unique product. And that's why we've spent the past two years doing research and development in getting this vegan sponge right, which is incredibly difficult to do."
Although new products are regularly brought into the fold, Chamdal isn't about to reinvent the wheel. "Our core product is the celebration cake and it accounts for 95% of all our sales," he says. "That core product will always be there, albeit with different designs and flavours according to the taste of the time."
Red velvet, for example, is "really hot" according to the CEO, and a recently launched caramel celebration cake range is also proving popular.
Chamdal says he's faced few obstacles in growing the business, which he puts down to the quality of the offering. "If the product is good, you will get customers," he insists.
"The biggest challenge in business," he adds, "is enjoying yourself. I've always enjoyed myself, right from the beginning when I did the creaming of the cakes."
And the CEO reveals he's still hands-on when it comes to refining the products. "I have to taste all the new cakes. Well, that's my excuse, anyway," he laughs.
Read more about Cake Box along with all the industry's major players in the Bakery Market Report 2021.