Unbelievably, we are at the halfway mark of my 52-week recipe challenge! To be candid, when I considered writing the column I was very nervous that I'd never be able to come up with 52 different recipes. But, through the help and generosity of numerous friends and readers, the impossible now seems possible.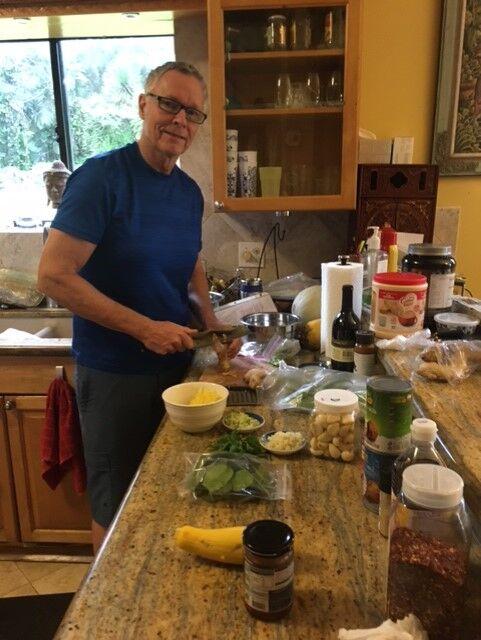 Remember, the goal is for all of us home cooks and bakers to increase our recipes by 10 over the course of the year. So hopefully, by now you've found and adopted at least five new recipes that you and your family enjoy. My five top new recipes include copycat Denny's French toast (Week 5), taco pie (Week 10), Thai meatballs (Week 16), Olive Garden copycat bread sticks (Week 18) and Thai Green Chicken Curry (Week 23).
I can't wait to find at least five more recipes over the next 26 weeks! Please help me, readers – send me your favorite recipes!
For many, Easter symbolizes a religious resurrection. I think for the island, this Easter also symbolized a resurrection of family gatherings and shared love. With the pandemic somewhat under control, for the first time in over a year, many families, including my own, came together on Easter Sunday to observe the day's religious significance and to once again celebrate family togetherness. We had a blast! The youngsters dashed about trying to find the hidden eggs, while the adults participated in a relay egg race. With a spoon jutting out of our mouths, and an egg precariously placed in the spoon, we had to run to our partners on the other side of the lawn, exchange the egg and run back to the finish line. And no, my partner Vince and I did not win, darn it!
Of course, along with the fun came lots of food! We hadn't seen such a variety and quantity of main dishes, side dishes and desserts on display for more than a year. It was gastronomical bliss! One of my contributions to the meal came at the request of my niece, Krystal. She wanted me to bake a chocolate cake. I dusted off a recipe I hadn't used in a while: Triple Chocolate Layer Cake. This recipe comes from my favorite baking website: Sally's Baking Addiction. Sally is a baking perfectionist who provides readers with insightful and helpful hints on how to get the most out of a given recipe. I actually had to scale back on some of her hints, simply because of space limitations. Feel free to google her actual recipe for greater details.
Week 26: Triple Chocolate Layer Cake
Ingredients
For the cake
1 and 3/4 cups all-purpose flour (spoon and leveled)
3/4 cup unsweetened cocoa powder (I used Hersey's Unsweetened Chocolate powder)
1 and 3/4 cups granulated sugar
2 teaspoons baking soda
1 teaspoon baking powder
1 teaspoon salt
2 teaspoons espresso powder (I substituted this with 1 teaspoon of finely ground coffee)
1/2 cup vegetable oil (or canola oil or melted coconut oil)
2 large eggs, at room temperature*
2 teaspoons pure vanilla extract
1 cup buttermilk, at room temperature*
1 cup freshly brewed strong hot coffee (regular or decaf)
For the chocolate buttercream frosting
1 and 1/4 cups (2 1/2 sticks) unsalted butter, softened to room temperature*
3-4 cups confectioners' sugar
3/4 cup unsweetened cocoa powder
3-5 tablespoons heavy cream (or half-and-half, or milk), at room temperature*
1/4 teaspoon salt
1 teaspoon pure vanilla extract
Semi-sweet chocolate chips (optional for decoration)
Instructions
1. Preheat oven to 350 F (177 C). Grease two 9-inch cake pans, line with parchment paper, then grease the parchment paper. Parchment paper helps the cakes seamlessly release from the pans.
2. Make the cake: Whisk the flour, cocoa powder, sugar, baking soda, baking powder, salt and espresso powder together in a large bowl. Set aside. Using a handheld or stand mixer fitted with a whisk attachment (or you can use a whisk) mix the oil, eggs and vanilla together on medium-high speed until combined. Add the buttermilk and mix until combined. Pour the wet ingredients into the dry ingredients, add the hot coffee, and whisk or beat on low speed until the batter is completely combined. Batter is thin.
3. Divide batter evenly between pans. Bake for 23-26 minutes or until a toothpick inserted in the center comes out clean. Baking times vary, so keep an eye on yours.
(Note: Even if they're completely done, the cooled cakes may slightly sink in the center).
4. Remove the cakes from the oven and set on a wire rack. Allow to cool completely in the pan.
5. Make the buttercream: With a handheld or stand mixer fitted with a paddle attachment, beat the butter on medium speed until creamy – about 2 minutes. Add confectioners' sugar, cocoa powder, heavy cream, salt and vanilla extract. Beat on low speed for 30 seconds, then increase to high speed and beat for 1 full minute. Do not over-whip. Add 1/4 cup more confectioners' sugar or cocoa powder if frosting is too thin or another tablespoon of cream if frosting is too thick. Taste. Add a little more salt if needed.
6. Assemble and frost: Place 1 cooled cake layer on your cake stand or serving plate. (If you want, you can use a sharp knife to evenly level the bottom layer by shaving off the rounded portion, or flip it over so the rounded portion is against the bottom of the plate). Evenly cover the top with frosting. Place the second layer on top of the first and spread remaining frosting all over the top and sides. Garnish with chocolate chips, if desired.
7. Refrigerate cake for at least 30-60 minutes before slicing. This helps the cake hold its shape when cutting.
8. Cover leftover cake tightly and store in the refrigerator for up to 5 days.
*To make sure your cake rises properly, all these ingredients should be at room temperature. It makes a difference!