Legumes have been at the core of the Greek diet since antiquity, with chickpeas being especially popular. We find references to them, and the ways they were cooked, in the works of several ancient writers and poets, including Homer, whose epic poems provide insight into the eating and cooking habits of the time (roughly the 8th century B.C.).
Revythi (ρεβύθι) is the Greek word for chickpeas, and it derives from the ancient Greek word erevynthos (ερέβυνθος), which referred to both the plant and the seed. Sappho (c. 630-570 B.C.), the greatest female Greek lyric poet, spoke of "Χρύσειοι ἐρέβινθοι ἐπ ̓ ἀιόνων ἐφύοντο," which translates roughly as "Golden chickpeas that have for centuries been growing."
Many ancient Greek artists, philosophers and scholars like Sophilos and Theophrastus refer to chickpeas as "rams" due to their shape – if you look closely, a chickpea has a small curved horn on top. The Romans adopted this perspective, as evidenced by the Latin name for chickpea: cicer arietinum (arietinum meaning Aries).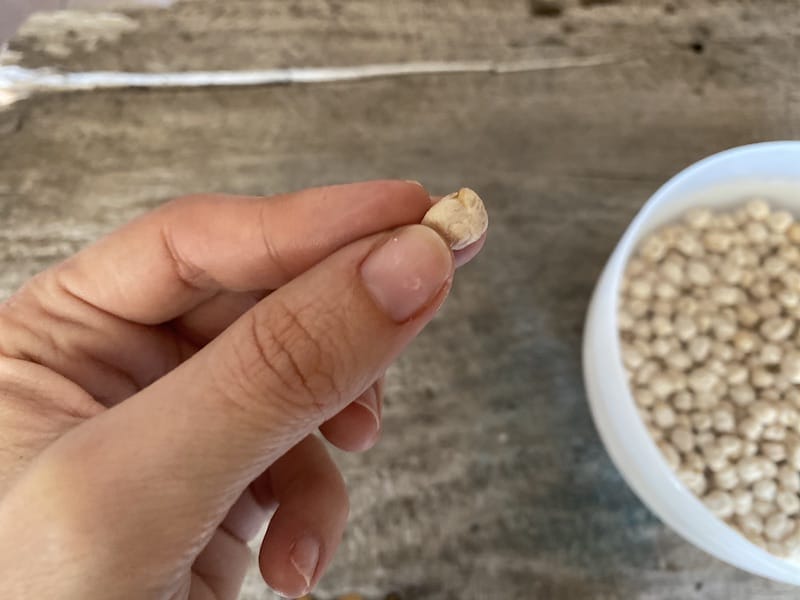 We know chickpeas as a nutritious and filling pantry staple, the backbone of a stew or salad, but they have proven their versatility throughout history. In antiquity people used them to create a starter that doesn't involve flour or any other grain for bread making. It's a genius method for baking bread, and this gluten-free yeast is still used today in traditional Greek breads like eftazymo from Crete and rovithenio bread from Kozani in northern Greece, among others. Much later, during the German occupation of Greece in the Second World War, there was a general food shortage, which led people to get creative and make coffee out of roasted chickpeas.
What I find particularly interesting about chickpeas is the important role they play in agriculture. Traditional Greek farming always encouraged the cultivation of chickpeas, which are easy to grow and prefer a dry and warm climate, as they are proven to revive and enrich the soil with nitrogen (which they get from the air rather than the soil), to the benefit of future crops. In recent years, it has been scientifically proven that growing chickpeas results in much better soil than if it were treated with chemical pesticides or fertilizers.
Traditional chickpea recipes can be found throughout Greece. One of the most common ways to cook them is in a soup, either with lemon and herbs like oregano, thyme or rosemary, or with tomato and dill. These types of soups are easy to make, thick, comforting and simply delicious – I make one at least once a week during winter. Another common way to cook chickpeas is with rice, almost like a light, vegan risotto. This is a great way to use up and recycle any leftover chickpea soup.
Revythokeftedes, or chickpea fritters, are also very traditional. Similar to falafel but with a different seasoning and shape, they are usually made with boiled potatoes, chopped onions, and a combination of fresh chopped herbs like parsley, marjoram, dill and mint, and we usually encounter them in the Cyclades, especially on the island of Sifnos.
That same island is also famous for their slow-cooked chickpeas, AKA Sifneiki revythada, which are sealed (using dough) in a special traditional clay pot that looks like a small amphora and baked overnight in an outdoor wood-burning oven. This method is found on other islands too including Paros, Folegandros, and Ikaria. If you happen to be on Sifnos during one of their numerous traditional festivals, you'll get to taste some of the best revythada, cooked in huge clay pots that make at least 100 servings each.
Today I am going to share with you my take on chickpeas baked in a clay pot, inspired by the cuisine of the Cyclades.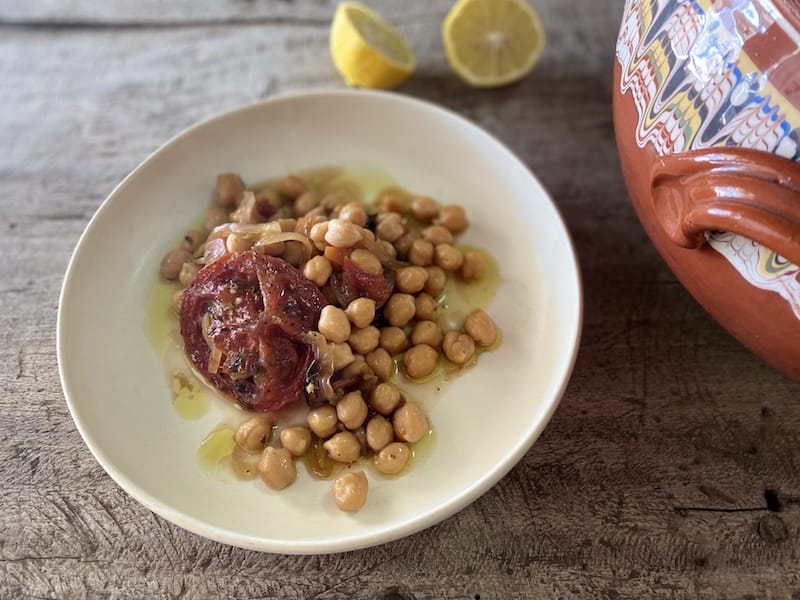 Clay-Baked Chickpeas
Ingredients:
500 gr dried chickpeas
1 whole red onion, peeled
3-4 black peppercorns
3-4 pink peppercorns
3-4 allspice berries
2-3 bay leaves
2-3 fresh garlic sprigs, chopped (can be substituted with two garlic cloves, chopped)
6-7 sun-dried tomatoes, chopped
1 carrot, diced
1 ½ tsp dried wild oregano
Salt and freshly ground black pepper
2-3 sprigs lemon thyme
2 red onions, peeled, cut in half and then thinly sliced
2 medium-sized ripe tomatoes, sliced
200 ml olive oil
About 800 ml (4 cups) from the reserved cooking liquid (if not enough you can add some water)
Directions:
Place the chickpeas in a bowl and cover with cold water. Soak overnight. The next day drain them, rinse them and place them in a large saucepan. Cover with fresh water and then add the bay leaves, peppercorns, allspice, and 1 whole red onion, peeled. Place on medium high heat, bring to a boil, then lower heat and simmer for about 1 hour, until the chickpeas are somewhat softened but still too hard to eat. While they simmer, keep an eye out for foaming. Skim any foam from the surface using a slotted spoon.
Preheat the oven to 170 degrees C. Drain and reserve the cooking liquid. Place the boiled chickpea mixture in an ovenproof clay pot or a Dutch oven. Add the chopped garlic, chopped sun-dried tomatoes, diced carrot, oregano, lemon thyme, salt and ground pepper, and mix with a spoon. On top, create a layer with the onion slices and then do the same with the sliced tomatoes. Add the olive oil and enough reserved liquid to just reach the chickpeas (but not the tomatoes). Season again with salt and pepper, place the lid so that it is well sealed and put in the oven. Bake for about 2 ½ hours. Serve with some lemon juice if you like and warm, fresh bread!
Tips:
There are a few secrets to tasty baked chickpeas. First, avoid adding too much water – you want them to slow cook in their natural juices. Second, don't skimp on the olive oil, they need it! And third, the onions (and the garlic) are key – again, don't skimp on them.
To convert metric measurements to U.S. and British kitchen units, click here.
This article was originally published on May 5, 2020.
May 5, 2020 Recipe
Legumes have been at the core of the Greek diet since antiquity, with chickpeas being […] Posted in Athens
March 8, 2021 Recipe
The commencement of Greek carnival (καρναβάλι), also called Apokries (απόκριες), begins […] Posted in Athens
November 25, 2020 Recipe
Pastitsio (παστίτσιο) is rightfully among the most beloved and classic dishes of the […] Posted in Athens