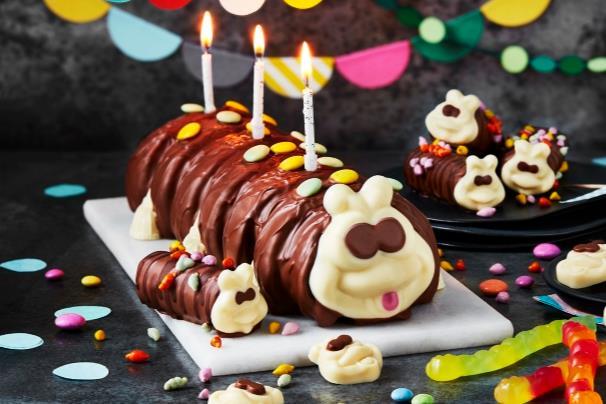 M&S is taking legal action over similarities between its Colin the Caterpillar cake and Aldi's rival product Cuthbert the Caterpillar.
Both cakes are chocolate sponge rolls with solid chocolate covering, white chocolate faces and sweet decoration. M&S believes its competitor's product represents a trademark infringement and has filed a claim with the High Court.
The Colin the Caterpillar cake, first introduced in 1990, has spawned multiple spin-off products for M&S (see below), including a female version called Connie the Caterpillar, launched in 2016.
"At M&S we are passionate about creating the highest quality, most innovative food for our customers – whether that is 100% British sourced meat or iconic products like Colin the Caterpillar, Percy Pig and our Glitter Gin Globe," an M&S spokesperson said.
"Because we know the M&S brand is special to our customers and they expect only the very best from us, love and care goes into every M&S product on our shelves. So we want to protect Colin, Connie and our reputation for freshness, quality, innovation and value."
Aldi was contacted by British Baker for comment on the legal action but said it had 'nothing to add'.
Colin – the making of an icon
The original Colin the Caterpillar cake, which celebrated its 30th birthday last year, was developed through a collaboration between M&S and Park Cakes.
According to Natalie Tate, M&S baker product developer, the brief was to create 'something different' for children's birthday parties that could be easily portioned and have wide appeal.
The recipe has remained largely the same although the look of the product has evolved over the last three decades. For example, the original fondant face has been replaced with the white chocolate version and six matching boots have been added.
In addition to Connie, the female version, special editions of the cake have been produced for occasions such as Christmas, Easter and Halloween.
Spin off products include the recently launch Colin the Caterpillar cupcakes, cake jars and button biscuits, as well as a Mother's Day version of Connie.
According to M&S, Colin has attended over 10 million birthdays since 1990. Earlier this year, Tate commented on similar products sold by rival retailers and told British Baker: "Imitation is the most sincere kind of flattery."