Have a go at this amazing dessert recipe from the founder of the award-winning Scottish Food Guide.
Thank goodness for sunshine and lighter days – we all deserve a break! Talking of which, whilst many of you are now creating fabulous brioches and advanced sugarcraft, some dishes are best left simple.
A whisked sponge is one such recipe. I recall when my children were at primary my son brought home a friend for tea so I baked a Swiss roll with jam and cream.
Our wee visitor's eyes were like saucers as he said, if I come back tomorrow will it be ready? To which I replied, come back in 10 minutes! A fresh whisked sponge brings joy to the family and satisfaction to the cook in equal measures.
Don't think for one moment I only bake roulades but for a quick fun fix, what better than chocolate log for Christmas, lemon curd for Easter and strawberries for Midsummer?
When making this sponge, I highly recommend the ultimate homemade lemon curd from Paul Newman at Errichel, available online.
---
Easter Lemon Curd Roulade
(Serves 8-10)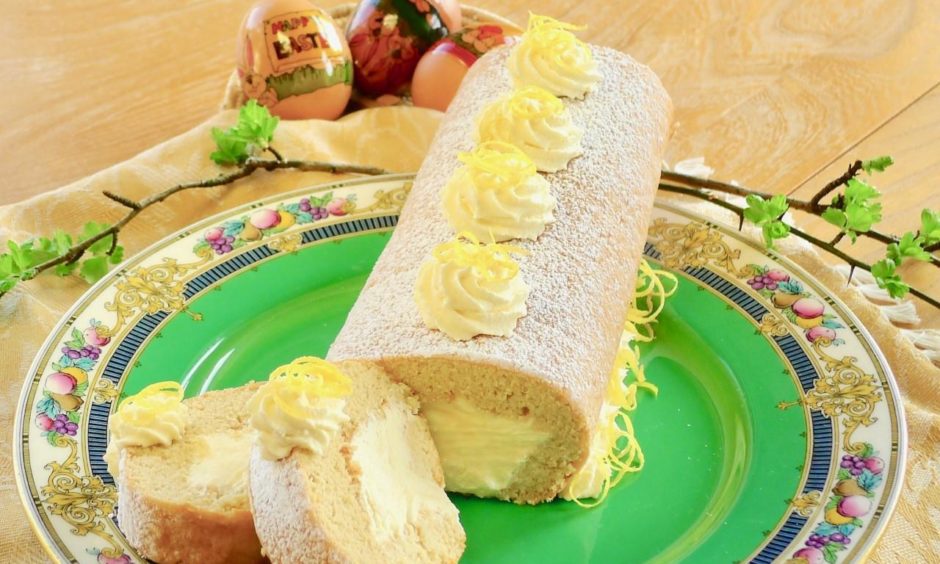 Ingredients
4 free range eggs
100g soft brown sugar
100g plain flour
For filling:
300ml double cream
3 tbsps Thyme at Errichel Lemon Curd
For decoration:
Any leftover filling
Lemon zest
Method
Pre-heat oven 180°C. Line a large Swiss roll tin with baking parchment.
Whisk eggs and sugar in a bowl, until very thick pale and creamy.
Sieve flour over the foamy mix and gently fold in using a spatula, taking care to retain as much air as possible.
Pour into tin and bake for 12mins until well risen and set.
Invert sponge onto a parchment lined chopping board. Peel off the underside paper and trim sponge edges with a sharp knife. To ease rolling, mark the edge you intend to roll from lightly with the knife.
Place a third sheet of parchment on top of the cake and roll up (empty apart from the paper) into its finished shape. Set aside, allowing the cake to mould into a 'roll.'
Whip cream until sufficiently firm to hold its shape then fold in the lemon curd.
When the cake is cold, unroll, removing the paper liners. Spread with filling and re-roll. Set on serving dish with join underneath.
Decorate with a dusting of icing sugar, a little reserved lemon cream and lemon zest.
Wendy Barrie is the Scottish Scottish Thistle Award Regional Ambassador (2018/19) for Central, Tayside and Fife. She is also founder and director of award-winning www.scottishfoodguide.scot and www.scottishcheesetrail.com
---
More Easter recipes…
Aunt Kate's Kitchen: Two cake recipes from the 1930s perfect to help you celebrate Easter this year
Try this former Bake Off star's recipe for hot cross buns ahead of Easter Weekend