San Antonio-based pastry chef Sofia Tejeda brings bubbly, colorful designer desserts to the masses, churning out pastries with just as much flair, depth and balance as the chef herself.
The Mexico City-born chef relocated with her family to San Antonio, Texas, at a formative time in her life — the middle of junior high school — due to growing political uncertainty in and around the Mexican capital. To help Tejeda cope and soften the blow associated with the move, the young woman's grandmother treated her to cake decorating lessons on Wednesday afternoons at the neighborhood craft store.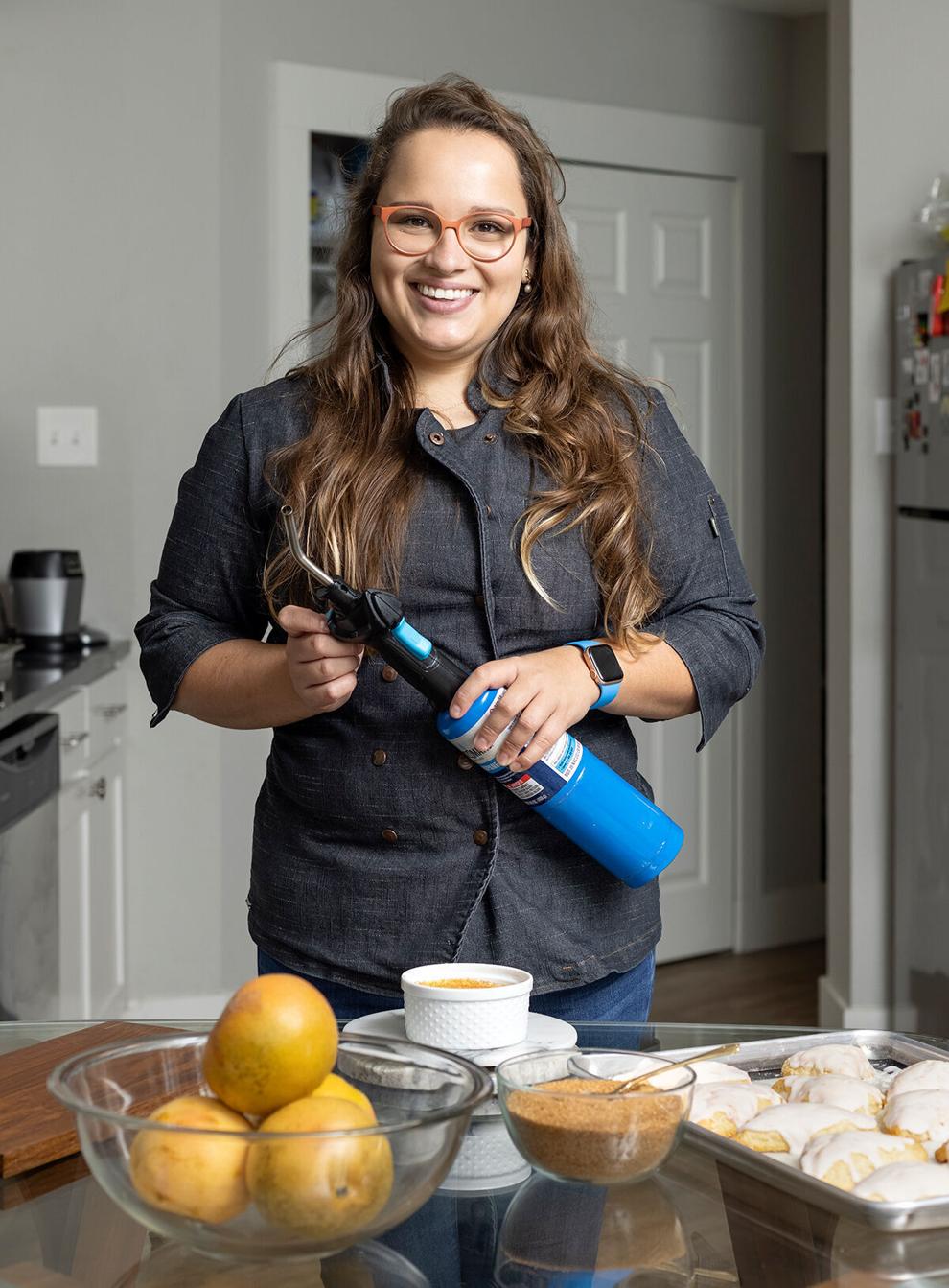 "Moving to San Antonio was a culture shock, and I definitely struggled when we first moved," Tejeda recalls. "At first, I was annoyed because the classes were something I had to do out in public with my grandma, but I ended up loving it. I always knew I wanted to do something creative, and I loved food, so it was at that point that I was able to make the connection that I could actually have a job that married those things." This skill set propelled Tejeda to professional fulfillment.
During her journey as a pastry-focused pupil of the Culinary Institute of America in San Antonio, Tejeda completed an internship at chef Thomas Keller's renowned Bouchon Bakery in Yountville, California, diving headfirst into the grueling, high-pressure world of elite, award-winning bakers.
"As an intern at Bouchon, you're literally baking every single thing that goes into the dining room, and it's an insane amount of pressure," Tejeda says. "The chef would schedule interns for 10 straight twelve-hour days just to see if you could handle it as her way of weeding out those who would eventually waste her time. It was so trying, but it was 100% worth it."
Following graduation, Tejeda worked as a pastry cook in San Antonio hotspots Feast and Signature before securing the executive pastry chef position at Éilan Hotel and Spa, where she honed her technique, production and recipe-development skills. The Food Network noticed Tejeda's talent and reached out to her via Instagram. Not before long, she was competing in its series, "Girl Scout Cookie Championship."
"It was an awesome experience and very different than what I was expecting," she says regarding her experience on the Food Network. "The ovens and equipment are not what I was used to, the camera crew is always on your heels, there are lights on you, it's hot. It was absolutely terrifying, but it was so cool. I never thought I'd be on the Food Network, but I got to live that dream, so I'm very thankful."
Years of practice in such establishments came in handy at the onset of the COVID-19 pandemic. Like many in the foodservice industry, the spring of 2020 offered Tejeda a choice: pivot or die. That may sound dire, sure, but for folks who saw their industry crumbling under the weight of an unprecedented global pandemic, it absolutely felt that way. 
"COVID hit, and I don't think anyone really understood how serious it was going to be," Tejeda says. "I always had the idea that I'd eventually go back to my restaurant job when the pandemic passed, but then I got the call that my position was being eliminated, and it became real that this job I loved wasn't waiting for me. It was heartbreaking."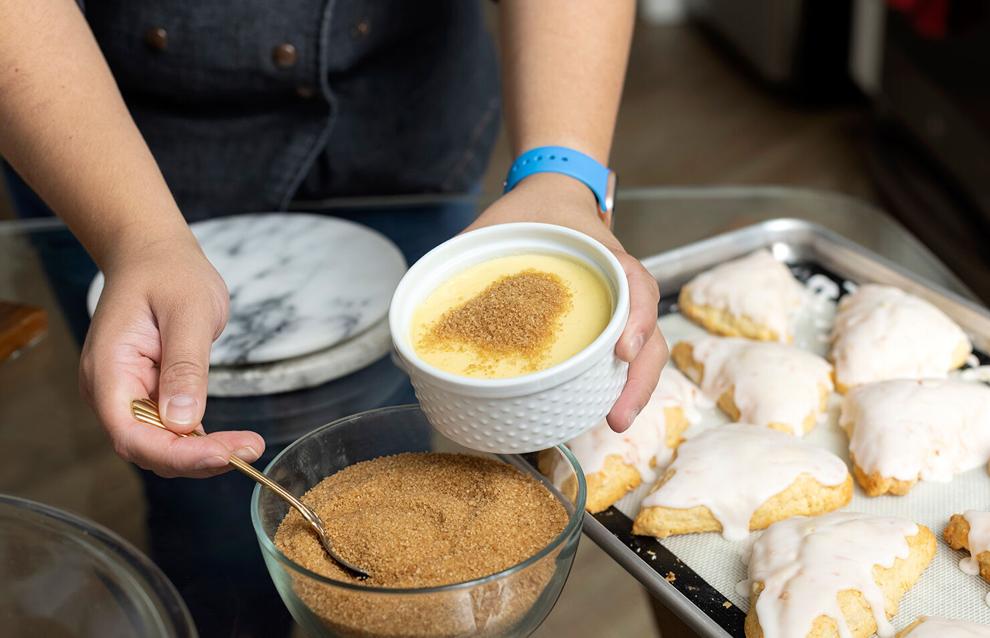 Now, from her home kitchen in San Antonio, Tejeda creates custom pastries for clients in and around San Antonio, and participates in farmers' markets and handmade markets where designers, artisans and craftspeople sell their unique products.
Tejeda's tasty creations run the gamut from layer cakes with fondant and royal icing details to flawless macarons and beyond. Driven by her passion for creating desserts that are as beautiful as they are delicious, Tejeda continues to invest in her entrepreneurial endeavors, developing custom pastries and offering recipe development for independent restaurants and home bakers alike.
"Just to stay afloat during the pandemic, I started baking at home and selling those items, and eventually my business grew into this huge undertaking that I'm managing out of my super small kitchen that I share with my family," she says. "Working for myself has been so fulfilling, and while San Antonio has never been a huge pastry mecca or anything, it's not in me to just quit. It's been hard, and it's presented a bit of a strain on my family, but I have to do what I have to do, and it isn't forever. I look forward to working in a kitchen and wearing a chef's coat again."
In the kitchen with grapefruit
Tejeda offers Feast and Field a small collection of grapefruit-forward recipes for you to try at home. Each recipe acknowledges the trademark bitterness of the citrus powerhouse without yielding to it, highlighting the fruit's natural, easy sweetness. 
"Grapefruit is tough," Tejeda warns, "but it's possible to use the different facets of the fruit to add layers of flavor in different ways. I'm excited about what I came up with for the readers because it's really a study in balancing sweetness and texture with what can sometimes be a really tricky ingredient."
Learn more about grapefruit farming and harvesting in our feature story about South Tex Organics, the largest organic citrus grower in Texas, and check out Tejeda's tasty grapefruit-inspired recipes below.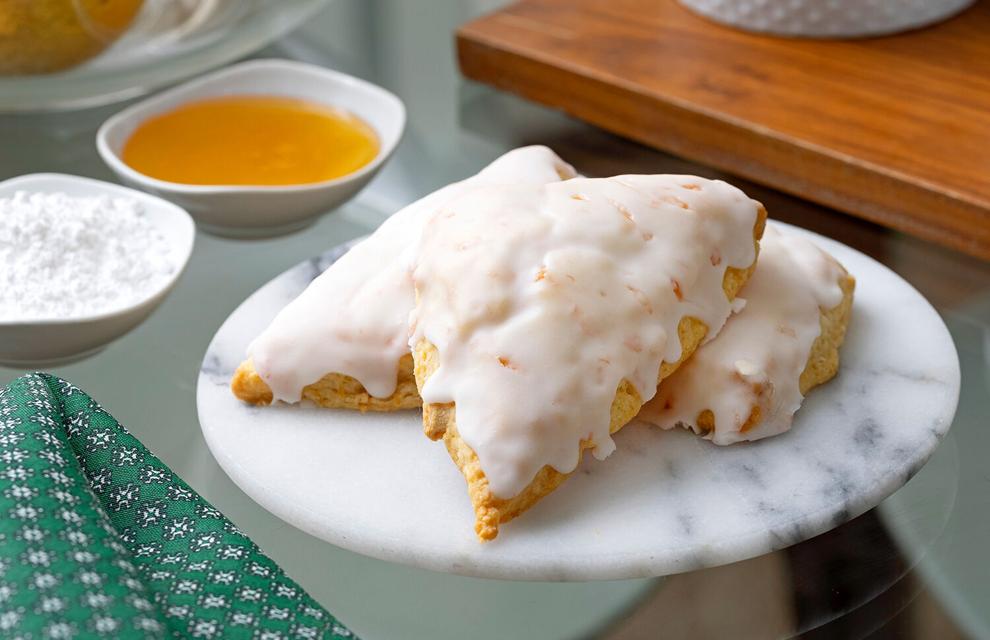 Building your brunch menu? Don't miss these citrus scones with a moist texture from pastry chef Sofia Tejeda.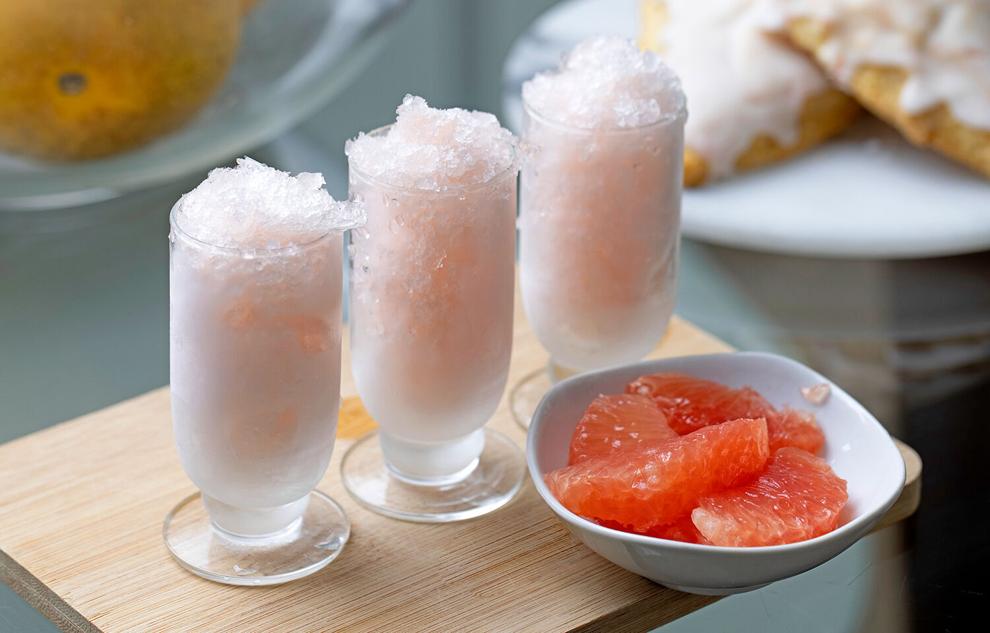 Cava or sparkling rosé punch up bright grapefruit granita best enjoyed on a hot summer day.
Tart grapefruit zest & juice balance this creamy custard for a crème brûlée recipe with no risk of being cloyingly sweet.