Tucked away from the hustle and bustle of Wrigley Field at the corner of Clark Street and West Grace Street sits Cloud Cookie, a vibrant, cloud-themed grab 'n' go for luxury cookies and other sweet treats.
 The "shoppe" — as founder and owner Anne Marie Morin, aka "Cloudy," calls it — had its grand opening in December 2020.
 Her inspiration?
 Covid-19.
 To survive pandemic life, Morin exercised by day and baked with — and for — loved ones by night.
 "Coming up with some cute little cookie ideas and sharing them with the people I was quarantining with was kind of what was getting me through every day," Morin said. "And they were loving that. Everybody was loving the cookies, so that's where Cloud Cookie was born."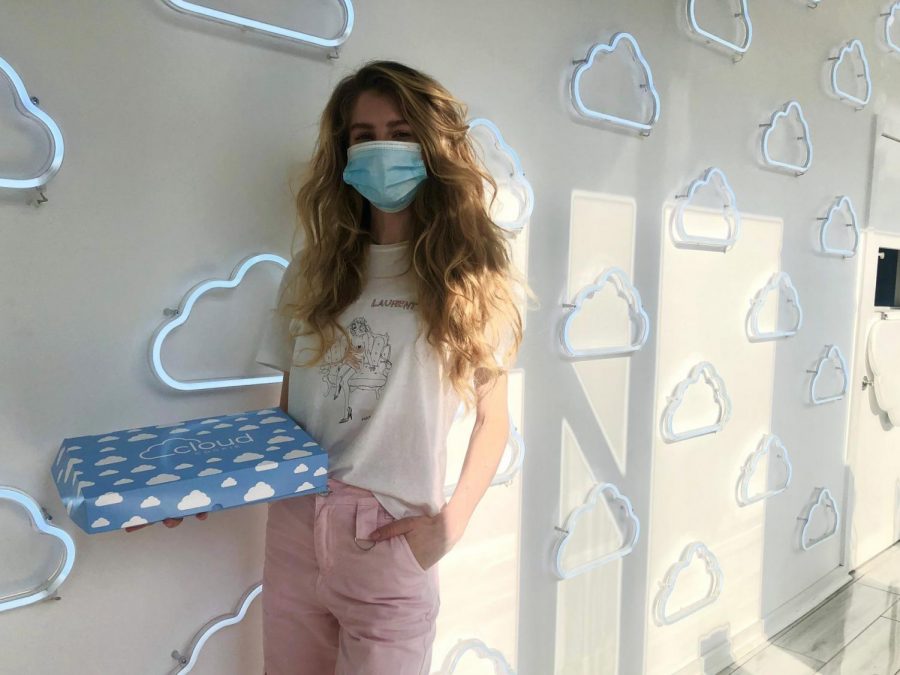 With no prior culinary experience, Morin took her original recipes, spruced up a gutted retail space at 3809 N. Clark St. with fresh paint and a wall of neon cloud lights and had her dreamy shop up and running three months later. And according to Morin, the all women-owned and run bakery has customers coming from all over the Midwest to try their first-ever Cloud Cookie and take an Instagram-worthy picture in front of the iconic cloud wall.
 "To watch people come in, their faces light up [when] they see the clouds, and they walk out with their cookies, and they're eating them, and they're smiling, and they're happy, I'm proud of that most of all," Morin said. "I'm proud that that's what Cloud Cookie is able to do for people."
 Enchanted by the palm-sized cookies, I ended up trying six of Morin's creations.
 The Cloud Cookie, $3.75/each — Morin's signature cookie is a hybrid between traditional cookie dough and blue-tinted cake batter folded in, topped with powdered sugar. With notes of almond and an obscure fruity sweetness, the Cloud Cookie's looks are deceiving. The seemingly innocent cookie packs a punch that first crumbles then melts in your mouth. But if you want to eat this on the go, bring napkins for the powdered sugar and the crumbs. Rating: 5/5
 The Cloudoodle, $3.00/each — This snickerdoodle cookie doesn't disappoint. The gooey dough paired with a dusting of sugar and cinnamon may look like an ordinary snickerdoodle cookie, but the consistent texture and rich flavors in every bite takes this cookie to the next level. Rating: 5/5
 The Cloudynoir, $3.75/each — For chocolate lovers, this cookie will have your mouth watering for more, but those who have a more sensitive sweet tooth may only want to have a bite or two. This cookie could easily disguise itself as a brownie. Between the double chocolate cookie dough and the chocolate chunks, this cookie was just a little too rich. Rating: 4/5
 The Cinnamon Roll Cookie, $3.75/each — If it looks like a cinnamon roll and smells like a cinnamon roll, then it's probably a cinnamon roll. Or is it? The Cinnamon Roll Cookie takes an open mind to compare with a real cinnamon roll. The cinnamon and cookie dough are swirled into a cinnamon roll shape and topped with a rich vanilla frosting. The taste is reminiscent of a cinnamon roll but doesn't quite hit the mark because of the cookie dough that takes the place of what should be a true roll flavor. But what lacks in taste is made up for in style with this treat. Rating: 3.5/5
 Mom Knows Best, $3.75/each — This oatmeal cookie is a Morin family recipe. Mixed with walnut and chocolate chips and topped with a light chocolate drizzle, this cookie is decorated with extras that keep you guessing what comes next in every bite. This spin on the oatmeal cookie takes a person crazy for crunch. Rating: 4/5
 The Basic Bish, $3.00/each — You get what you get from The Basic Bish. Classic and timeless, this traditional sugar cookie topped with blue sugar sprinkles is just right. Rating: 5/5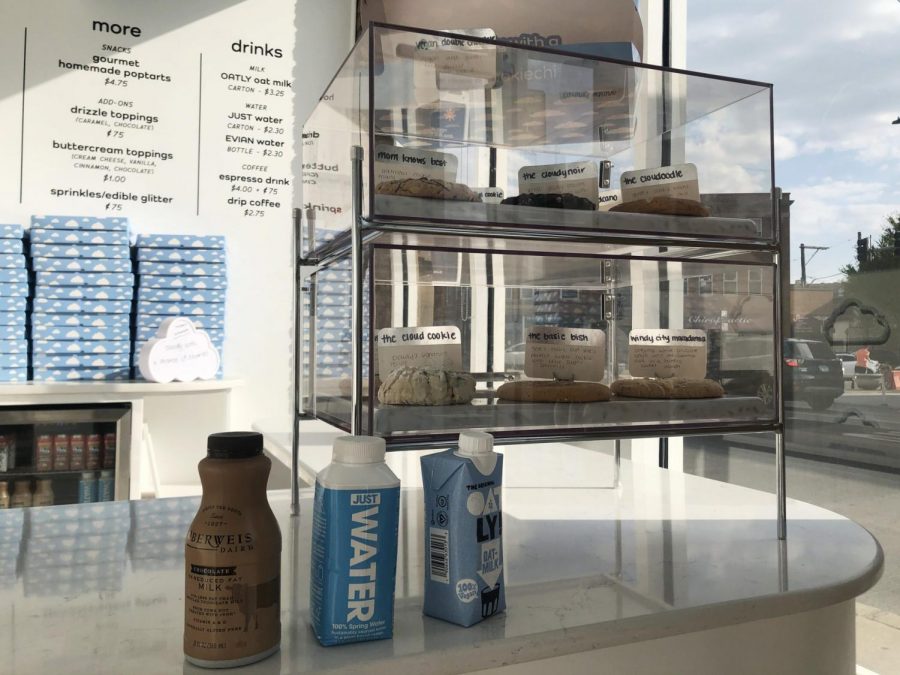 Regardless of the performance of the flavors, you always know what you're going to get from Morin's cookie dough. Each cookie has the same soft, gooey texture. But Morin's creative spins on traditional flavors sets her apart.
 Each cookie is a rich, savory treat, so for the $3-$4 price range per cookie, Cloud Cookie is worth it if you know your palate.
 For the summertime, Morin said customers should gear up for the launch of the first Cloud Cookie ice cream sandwich and otherseasonal menu additions.
 Cloud Cookie is available for takeout, curbside pickup, delivery, and can even be shipped via U.S. Postal Service. For questions or requests for catering orders, Cloud Cookie can be reached by phone at 312-380-1885 or by email at info@cloudcookie.com.