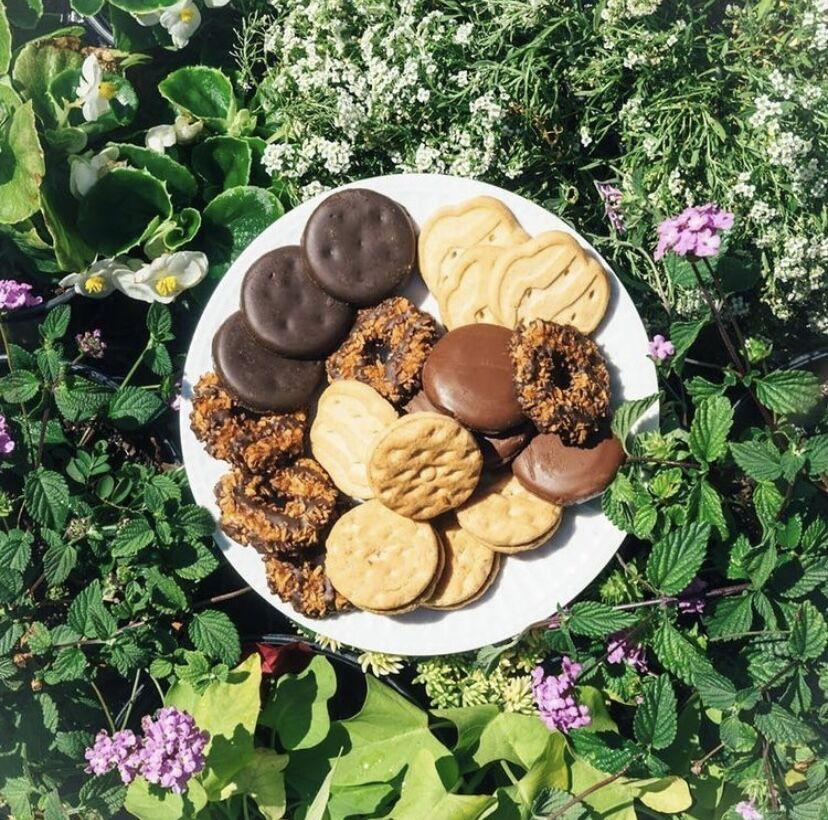 It's that time of year again. The booths begin to line up in front of stores, little girls wearing their sashes and parents on Facebook advertising their sales. It's Girl Scout Cookie season. 
Now, you might be content with just eating these delicious cookies on their own, but they can be used to make a variety of other snacks and deserts that are just as great. Here are some easy recipes for Shortbread, Carmel deLites and Thin Mint lovers. 
---
Peanut Butter Patty Cupcakes
This recipe is so flexible you can use any cookie to make its own cupcake. In this recipe, chocolate and peanut butter will be the focus. All this recipe needs is your favorite box of chocolate cake mix, peanut butter frosting and a box of Peanut Butter Patties.
Place a tag along at the bottom of your cupcake container (tin, cupcake liners etc.)
Follow the directions on the chocolate cake mix box, pour the mix in the cupcake container and place in oven.
After letting cool, decorate with peanut butter icing and cookie on top. 
---
Shortbread Strawberry Ice Cream Cake
A classic snack for a classic cookie. As the weather starts to get warmer, the Shortbread helps out with the help of your favorite strawberry and vanilla ice creams and whipped cream. 
Crush up Shortbread cookies and place them at the bottom of dish.
Scoop ice creams and place on top of cookie base.
Add whipped cream on top and decorate with Shortbread. 
---
Lemon Shortbread pudding
This easy lemon snack only requires pudding mix, whipped cream and girl scout Lemon-Up cookies for a sweet desert. 
Prepare pudding according the directions on the box.
Crush up a few Lemon-Up cookies and place them at the bottom of bowl.
Pour pudding on top of cookies.
Place whipped cream on top and serve. 
---
Thin Mint Truffles
A nice chocolate gooey snack for the lovers of Thin Mints. The truffles made out of the Thin Mints themselves guarantees that the minty flavor so many love is still there.  
Crush up a box full of Thin Mints to a crumble.
Add in soften cream cheese to the crushed Thin Mints.
Roll the mixture into one-inch balls and refrigerate.
Place the chocolates in a bowl and let it melt.
Dip the balls into the melted chocolate, making sure the ball is coated.
Let harden and serve.
---
Carmel deLites Chex Mix
This quick easy snack is able to be eaten on the go and holds the delicious coconut flavor of a Carmel deLites. It only requires Carmel deLites, rice chex cereal, chocolate chips, caramel sauce and coconut flakes for garnish 
Mix the caramel sauce, rice chex cereal and Carmel deLites together in a bowl.
Melt some of the chocolate chips in the microwave and put the rest to the side.
Combine the melted chocolate, coconut flakes, chex mixture and chocolate chips together and serve.
---
Do-si-do Coffee Mix
Having breakfast for desert has never been easier with the help of a peanut butter Do-si-do. This salty but sweet desert only needs a box of Do-si-dos and your favorite coffee cake mix to have it in your kitchen in minutes. 
Prepare the coffee cake mix according to the directions on the box. 
Crush up the Do-si-dos.
Place the crushed Do-si-dos in between the layers of coffee cake mix.
Bake in the oven.