Well, this is it. We've reached peak pantry-cooking. It's hard to see how we can possibly outdo an awesome two-ingredient recipe like the one.
It's old-school, it's classic, it's the perfect way to stay in and bake without using eggs, milk, butter or flour… and still end up with a magical Easter treat.
MORE VIDEOS: Find all our 9Honey Quarantine Kitchen cook-along videos here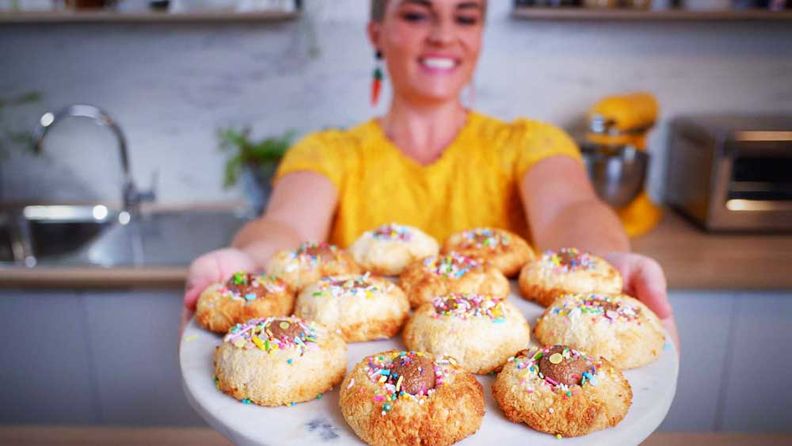 Wait, what? How do you do, that?
Easy: coconut macaroons, like my gran used to make. So good you'll fight your loved ones for them.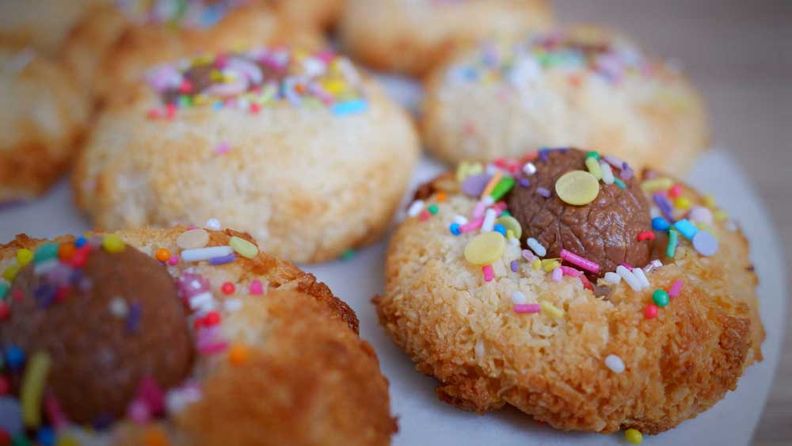 It's all in the condensed milk, you see.
Oh, the things you can do with condensed milk…
Take a look at the video above and cook along with me, or get the kids to do it.
You're welcome. Also, #sorrynotsorry for this utterly #joyfulfood treat. Now, Easter baking, here we come!
Two-ingredient Easter coconut macaroons (plus toppings)
Ingredients:
1 x tin sweetened condensed milk

400g shredded or desiccated coconut
Method:
Mix the ingredients together.

Roll into balls and place on a lined baking tray.

Press down on the balls to make cookie shapes and make an indent with your thumb in the middle.

You can add some chocolate drops, classic glace cherries, or a mini Easter egg to the top here if you want. Or just cook them as they are.

Place in a pre-heated 180°C oven and cook for 15mins or until browned. Allow to cool.
Note: the longer you cook them, the crispier they'll be. But I like mine chewy in the middle.
More things you can make with condensed milk… three-fudge.
MORE VIDEOS: Find all our 9Honey Quarantine Kitchen cook-along videos here